The best of Podgorica city Walking tour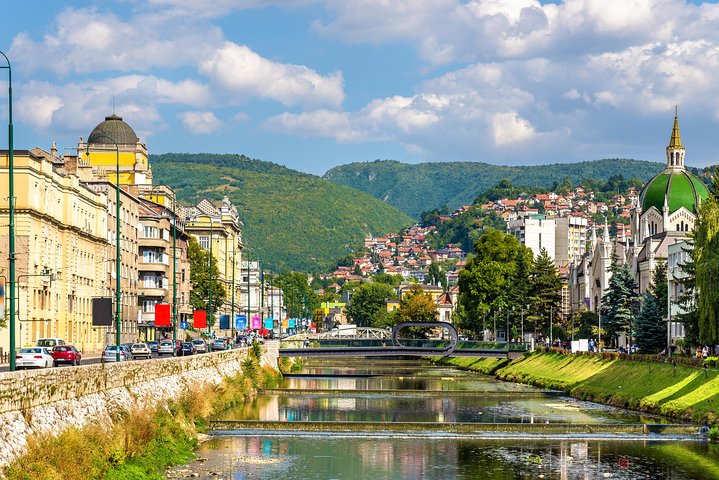 Do you know that the capital of Montenegro is a city with many names: from Roman Birziminium to Slavic Ribnica, from communist Titograd to our days Podgorica? Podgorica is a city with a turbulent history and a few landmarks that can display its past. You will be amazed by walking through the old city, Ribnica Bridge, and king Nikolas Palace. Is it true that Podgorice once was a communist Yugoslavian city? What is so charming about walking along Stara Varos? Are there any hidden secrets of this magic place? A local charismatic guide will reveal the secrets and interesting facts about "Skyline" remains, parks, institution buildings, and Gorica hill.
Read more
Included
Professional local tour guide
Excluded
Route & Duration
1

Orthodox Temple of Christ's Resurrection

The Cathedral of the Resurrection of Christ is a cathedral of the Serbian Orthodox Church's Metropolitanate of Montenegro and the Littoral (MCP) (SPC). The church's construction of around 14,000 square feet began in 1993, and it was consecrated on October 7, 2013, on the occasion of the 1700th anniversary of the Edict of Milan guaranteeing religious freedom. With its twin towers and massive arch, the church is influenced by the ancient Cathedral of St. Tryphon, as well as Romanesque, Italianate, and Byzantine elements. The inside is lavishly decorated with gold-backed iconographic paintings, marble flooring, and furniture.

2

Vladimir Vysotsky Monument

The Monument to Vladimir Vysotsky is a bronze monument located on Pushkinskaya Street in Rostov-on-Don that was built and dedicated on the 34th anniversary of the poet's death in the summer of 2014. The Vysotsky memorial is one of a kind. It is now the sole musical memorial to the Russian vocalist in the whole country.

The capital's first monument is dedicated to Prince and King Nikola I Petrovic Njegos, the seventh and final sovereign monarch of the Montenegrin dynasty Petrovic-Njegos. It was built in 2005 to commemorate the Day of Liberation of Podgorica during WWII, and it is positioned on a plateau across the road from the Montenegrin Parliament.

The Park was established in 1910 to commemorate King Nikola's coronation, and its current appearance is a gift from the Government of Azerbaijan to the Capital. The Park has busts of Bozidar Vukovic Podgoricanin, a state official at Ivan Crnojevic's court, and Azerbaijani poet Hüssein Cavid, as well as a big light-lit fountain and a children's playground.
Meeting Point
Orthodox Temple of Christ's Resurrection, 3 Bulevar Džordža Vašingtona, Podgorica 81000, Montenegro

We will meet at the main entrance to the Orthodox Temple. See Map
Cancellation Policy
You can cancel up to 24 hours in advance of the experience for a full refund.